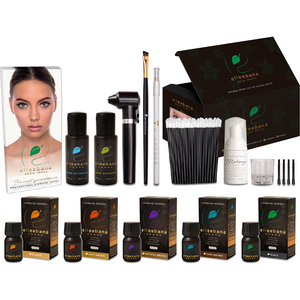 The Kit Contains – One of each color (5) in the range enough for 500 treatments – PH Activator – Brow Shampoo – Mixing Tool – Eyebrow Brush – Doe Foot Applicators -Angled Brush  – 30 ml makeup remover

BENEFITS –
Elleebana's innovative formula helps to strengthen hair, restore growth and the natural shape of the eyebrows.  A luxurious palette of natural shades can be used individually or mixed together to create the ultimate brow color for your client.  Elleebana's Brow Henna coloring agents are derived from a Henna Plant or Henna tree. The higher the quality of henna is derived when extracted from the leaves and flowers of the henna plant and offers far more superior skin stain or brow coloration.  Elleebana has worked for years to source the best possible suppliers of high-quality henna plants and use a manufacturing process that maintains the integrity of the color to a very high superiority.
Containing hydrolyzed proteins, vitamin complex, and anti-oxidants, Elleebana's Brow Henna helps to strengthen and restore hair growth and improves the natural condition of the eyebrow hair. This makes it perfect for people who have sparse, over-plucked brows or are still recovering from a nightmare waxing experience. These unique additions to the range are innovative, set the brand apart from its competitors, and are a true genius for the evolution of brow enhancement services.
Our professional range of Elleebana Brow Henna consists of 5 highly pigmented, luxurious colors, perfect for each skin type and tone, however, it is easy enough to mix a customized brow color for your client to create true brow magic. Elleebana Brow Henna contains no ammonia, lead, or peroxide which helps to minimize the body's natural absorption of nasties and is a cost-effective salon brow service that boosts the salon's bottom line.

Natural eyebrow tinting with tattoo effect on the skin
Low cost per application
Over 100 applications per bottle
Gentle and innovative formulation
Stays on hair up to 6 weeks
No ammonia or hydrogen peroxide
Vegan and Cruelty-free
HOW DOES IT WORK –
The way Elleebana Henna works on the hair and skin structure is incredibly unique in comparison to tinting. Tinting uses an oxidant to open the cuticle of the hair and allows color to penetrate the brow hairs cortex through the oxidation process. Henna, on the other hand, acts like a blanket over the hair and provides a coating to the hair shaft, coating the top layers of the hair cuticle only.  As the brow cuticle has a scale-like finish this coating smooths out the finish, almost like buffing out the hair imperfections to give the appearance of thicker, softer, and smoother hair and eyebrow.
The process of brow henna using the Elleebana brand does not require an oxidant or hydrogen peroxide to activate the color or to oxidize the color through the hair shaft and as the product is plant-based this natural alternative is a great option for those with sensitivities or who prefer the finish of a skin stain through their brow.
Henna can easily be incorporated into your salon and it is also a great companion service" with our world-renowned One-Shot Lash Lift treatment. With Henna processing time taking no more than a 20-minute treatment, it easily complements the client's lash lifting regime and ensures a substantial hourly financial productivity for salons who choose to offer a Henna brow treatment partnered with a lash lift treatment.
If this is your first experience with this product we highly recommend the training that accompanies this kit. For great, consistent, and reliable results, check out our training options to become a Certified Elleebana Brow Henna Stylist.