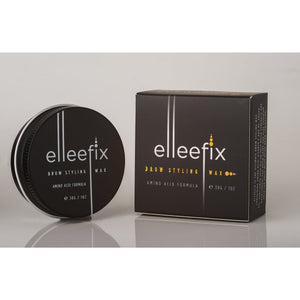 Elleefix brow styling wax is a daily lamination product for salons to retail to their customers who may not wish to have a brow lamination performed but still want the look of a lamination.  Similar products have been on the market for some time now, but we have not wanted to do what the market always does; we want to be that one step ahead and continue to drive the industry forward, so our release of Elleefix is most certainly a cut above the rest. 
The styling wax offers exceptional hold for even the most stubborn brow hairs on oily skin types without leaving an oily or greasy residue on makeup or skin.  The concentration of the additive in this product includes:
Sunflower Oil extracts – Sunflower is an ingredient rich in Oleic acid and Linoleic acid, which aids in the reduction of hair breakage.  Also has anti-inflammatory properties.
Argan Oil extracts – help to strengthen and nourish while providing a protective sheath and shine to the hair shaft.
Vitamin E is a natural antioxidant that helps reduce oxidative stress and free radicals that can cause the hair follicle cells to break down.
Vitamin B5 – for volume and sheen and to offer improved texture to brows that are damaged by styling or chemicals.
Cocoyl Glutamic Acid – Vegan amino acid (coconut origin) is an emollient and a surfactant in our conditioning formula.  This amino acid's chemical structure is small in molecular size and, therefore, able to penetrate and give deeper conditioning benefits to the hair. 
This product can also be used to style already laminated brow hairs back into place and hold.

Vegan-friendly and cruelty-free – just the way we like it. 
Shelf life is three years and six months after opening
Size-30 grams (estimate of at 50+ treatments per jar)
Salon Retail Suggested Price: $35.00