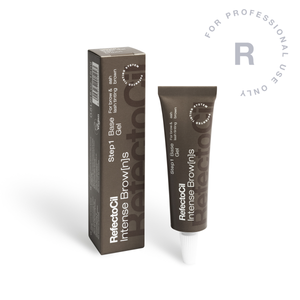 This Tint Line is Patented and uses an FDA-compliant color additive. 
The Intense Brow[n]s Base Gel is the first step for the tinting system to create impactful eyebrows and expressive eyelashes. For lighter skin- and hair color types. A cool and ashy shade of brown that suits neutral and cold color types well.
 **Due to FDA regulations on eyelash and eyebrow tinting in the USA regarding tinting products that contain phenylenediamines or coal tar derivatives, RefectoCil Intense Brow[n]s is provided for Elleebana distributors in the USA only.  In all other countries outside the USA, we recommend the Elleeplex Profusion tinting system for integration with Elleebana lash lifts and lash & brow laminations. 
Water (Aqua, Eau), Alcohol denat., Carbomer (Carbomer), Safflower Flower/(Achillea Millefolium/Calendula Officinalis Flower/Leaf/Stem)/(Vaccinium Myrtillus/Vitex Agnus-Castus Fruit)/Rhus Chinensis Gall/(Camellia Sinensis/Nettle Leaf)/Dichroa Febrifuga Root/Grape Seed/(JuniperusCommunis Stem/Leaf)/Acacia Catechu Wood/Goldenrod/Hypericum Perforatum Extract, Sodium Hydroxide