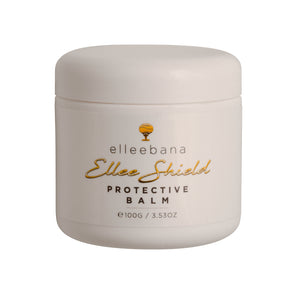 For Professional Use Only
100g
Shelf Life: 2 years
Once Opened: 12 months
ElleeShield, Natural protective eye balm. 
We like to offer you alternatives and provide you with quality products that will impress you and your clients.
ElleeShield is one of those must-have products in our range, being a natural product made from sweet almond oil and beeswax, use ElleeShield as a protective barrier cream to prevent tint from marking the skin.
You can never be too careful when it comes to protecting your clients. Use ElleeShield Protective Balm with paper eye shields for the safest eyelash tinting service.  
Natural ingredients

Gentle for sensitive skin

Great protective barrier

Prevents skin tinting
The ElleeShield Protective Balm is abundant in natural ingredients and is gentle on sensitive skin. Get better protection and prevent skin tinting with this premier balm.