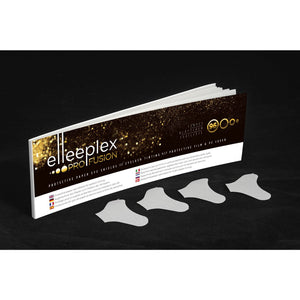 For Professional Use Only
These practical and simple new Elleeplex Paper Eye Shields are ideal for all your tinting and lifting services!
Each eye shield has 2 defined sides - the bottom has a protective film that is shiny and the other is textured.
The shiny side is designed to sit on the ElleeShield Protective Eye Balm to eliminate the seeping of tint to the skin and prevent the shield from moving during the application and processing time.
If slightly dampened on the corners you can also create more adhesion. The shield can be stretched or cut to apply to different shapes of eyes.
96 shields per pack