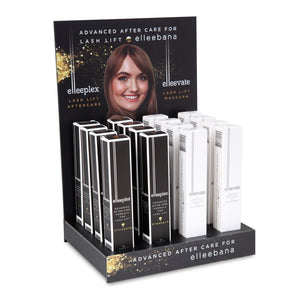 This durable stand can hold up to 16 tubes of Elleeplex or Elleevate Mascara. (Products are not included with the display.  Elleeplex and Elleevate are sold separately).
Elleebana designed the Elleevate and Elleeplex Mascara to be an everyday mascara that you can wear on lashes with or without a lash lift. The special Elleebana formula mascara partners with a lash lift treatment.
Elleevate and Elleeplex contain naturally occurring Keratin complex. Keratin is a strengthening protein that you can find naturally in skin, hair, and nails. Keratin's job is to protect and strengthen the natural lash while your client wears Elleevate Lash Lift Mascara. It also contains essential amino acids (arginine and biotin) that play an important role in healing and strengthening. These two speed up the repair time and promote healthy growth of lashes after wearing lash extensions, over-styling, or require some extra care.
Perfect for lash lift clients. These products are not lash-extension safe.
The display is a must-have at your salon or spa's reception desk!